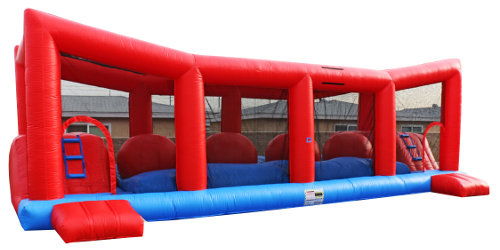 Take the Wipe Out Challenge!
You've seen the gameshow, now is your chance to be a contestant! The Wipe Out Ball Run tests your agility, balance, and athletic skills as you attempt to traverse across 4 giant red balls and make it to the opposing platform without falling off. After climbing up to the top of the starting platform and getting your focus, you take the leap of faith and make their way across. You can try going fast, slow, one ball at a time, or just make a run for it.
Spectators will laugh and cheer as they watch people take turns crashing, face planting, flipping, and falling all over the place. The soft airbag-like fall zone surrounded by a full mesh enclosure keeps everyone safe and sound.
Wiped-Out is the perfect centerpiece for any party or event and will attract a long line of participants ready to take on the challenge. It fits in some backyards, but it's perfect for fairs, festivals, schools, churches, corporate events, block parties, fundraisers, and more.
Setup Requirements: Approx 50x20' area of flat ground with 14' of overhead clearance and two electrical outlets within 125 feet
Specifications
Size (Length x Width x Height)
42' x 17' x 14'
Recommended Ages
7-adult
Max weight capacity (per person)
200 lbs.
Max number of occupants
1
1-Day Rental Rate (8 hrs)
$625 + tax
Multi-Day Rentals
50% of the 1-day rate for each additional day + tax
Down payment required to reserve (goes towards rental fee; NOT extra)
$100