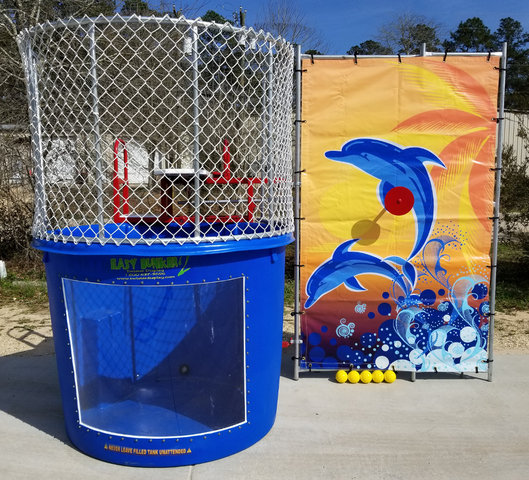 Dunk Tank
A dunk tank rental (also known as a dunking booth) is a great way for people to blow off steam by dunking the boss, the principal, mayor, or the local "celebrity" at fundraisers, fairs, festivals, school events, and company picnics. It's become somewhat of a tradition, and can be a great way to raise money or just attract a lot of people to your event. The more popular the person being dunked is, the more people will want to line up for a try at dunking them!

Our dunk tank rental is a top of the line full-size model with a
plexiglass window in the front so you can see the person being dunked. It's easy to use and easy comes with written instructions, but one of our delivery professionals will also show you how to use it. The dunk tank rental includes a bucket full of baseballs and our team will set it
where you want it and even start the filling process for you from your nearby water source.
When the event is over, simply open the drain valve and walk away. Our crew will come back after the water has drained to pick it up.
We store our dunk tanks indoors, so they look new and fresh. We keep them well maintained so you won't have any issues or malfunctions during your event. Don't get stuck with some old dunk tank that leaks water and looks terrible... Best Jump will make sure your dunk tank rental looks good and adds value to your event!
We deliver this dunk tank to Mandeville, Covington, Slidell, Hammond, Pearl River, Robert, Independence, Tickfaw, Madisonville, Bush, Abita Springs, Folsom, Franklinton, Bogalusa, Lacombe, and more. (Delivery fees may apply to some locations... see the total in your shopping cart before completing your order)