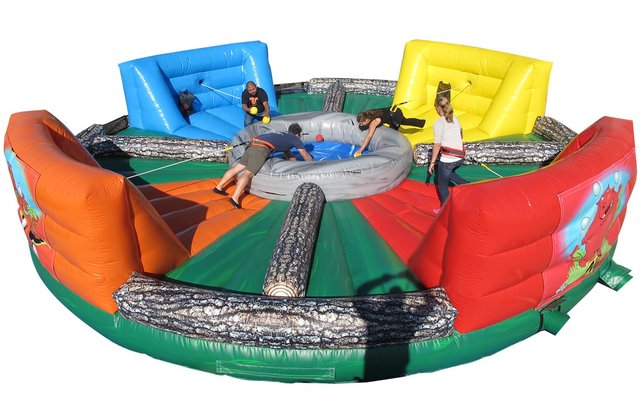 Hippo Chow Down
Hungry Hungry Hippos game comes to life!

You've played the small version of this game... now play the REALLY BIG VERSION! Hippo Chow down is a 4-player real-life version of the Hungry Hippos game. Players are harnessed to a giant bungee cord and have to fight to the center and gather balls from the ball pit and bring back totheir ball bag. They race against the clock and try to beat their friends, family members, or coworkers by collecting the most balls from the center ball pit to fill up their bag first.

This game will be a HUGE hit at any party or event and will attract a long line of participants ready to challenge each other. Adults will become kids again! It's perfect for schools, churches, corporate events, block parties, company picnics, fundraisers, and more!

Ages 9 & up only (42" minimum height requirement)

Setup Requirements: Approx. 35x35' area of flat ground with 10' of overhead clearance and one electrical outlet within 125 feet
Specifications
Size (Length x Width x Height)
30' x 30' x 6'
Ages & Minimum Height
9-adult ONLY (42" minimum height)
Max weight capacity (per person)
275 lbs.
Max number of occupants
4