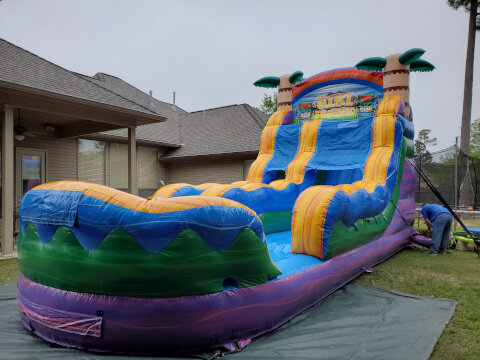 Tiki Plunge 15-foot Water Slide
This brightly-colored tropical-themed water slide features a steep sliding angle for a thrilling ride. The splash pad at the bottom provides a big splash at the end of the slide. It fits in most backyards and provides hours of fun for kids and the occasional teen or adult. Safety netting at the top keeps riders safe and contained. A built-in water system keeps the slide wet and slippery, even in the hot sun.
Setup Requirements: Approx 32' deep x 15' wide flat ground with 15' of overhead clearance at the rear, one electrical outlet within 125 feet, and a hose faucet.
Specifications
Size (Length x Width x Height)
28' x 11' x 15'
Recommended Ages
3-13
Max weight capacity
175 lbs. per person
Max number of occupants
Only 2 people on the slide at any one time