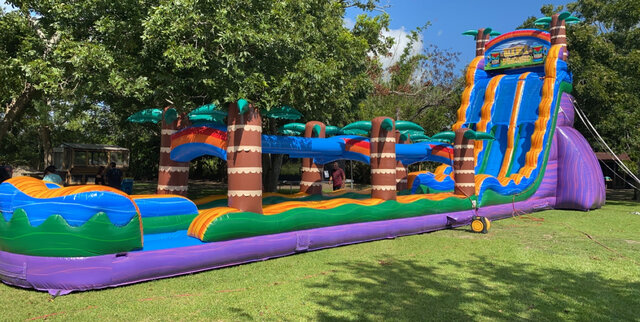 Tiki Plunge 27 Foot Water Slide
The BIGGEST and BEST!
When you're ready to go "all out", this is the tallest, longest, steepest, and fastest inflatable water slide in St. Tammany Parish! It's 27-feet tall, 70-feet-long, has two lanes, an extended runway, and an pool at the end. Two at a time can race side by side to all the way to the pool. This water slide dwarfs all others and it's an experience you will not soon forget! Fun for kids and adults of all ages.
Setup Requirements: Approx 80' deep x 20' wide flat ground with 27' of overhead clearance at the rear, 15' of overhead clearance in the front, two different electrical outlets on separate circuits within 125 feet, and a hose faucet.
NOTE: This inflatable needs a generator to meet the electrical needs on about 3 out of every 5 setups. A generator rental will automatically be added to your rental, but it will be refunded if we are able to power it using your own electrical hookups. It all depends on the location of your outlets and configuration of your circuit breakers. Extra extension cords are not beneficial as we are limited to 125 feet to avoid voltage drops that can damage the blower.
Specifications
Size (Length x Width x Height)
70' x 21' x 27'
Recommended Ages
3-adult
Max weight capacity
250 lbs. per person / 800 lbs total
Max number of occupants
Only 4 people allowed on slide at any one time